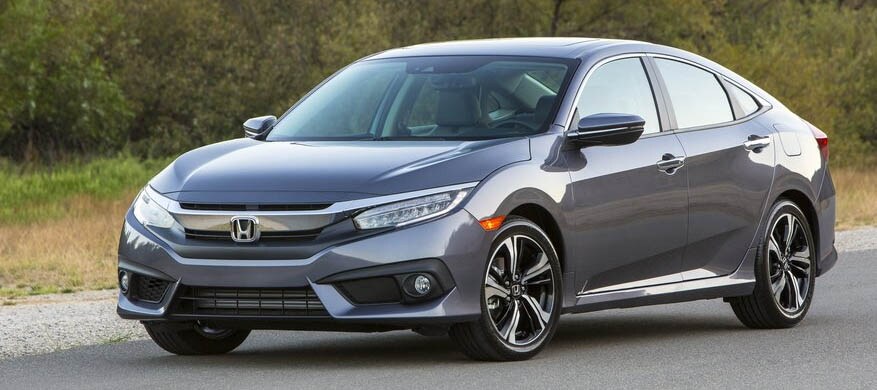 Used Honda Accord For Sale

Used Honda Accord Price Quote
Used Honda Models
Used Honda Accord Chicago Review

Since 1972, the Honda Accord has been at the helm of innovation with refined luxury and premium features. The 2020 model is no exception. Positioned as Honda's flagship vehicle, the Accord has earned rave reviews from customers for its design, performance, and premium interior. Whoever gets behind the wheel can enjoy the magnificent power and pleasure that this vehicle has to offer. Passengers, on the other hand,  receive a generously proportioned cabin with plenty of legroom. The interior cabin is heightened with Honda's comprehensive suite of advanced safety and driver-assistive technologies, which makes it better for protecting you and your family.

To find the perfect car for you, scroll through our pre-owned Honda Accord inventory. We have all of your favorite used Accord  Honda cars, prices, and deals. Starting with the eighth-generation Honda Accord, to the ninth generation, all the way up to the tenth-generation Honda Accord. We have it all.

To learn more about our used Honda Accord prices or to schedule a free test drive, fill out the form on this page.


Get More Information (Honda Accord)
* Indicates a required field
Return To The Top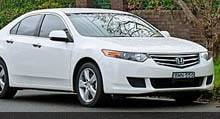 On the market from 2008 until 2012, the eighth-generation Honda Accord is now larger than the previous 7-Gen model. That larger size has placed it in the EPA's full-size car category. There is also a two-door Accord Coupe version and the fastback Accord Crosstour Crossover vehicle. Accord Trim levels range from the entry-level LX model to Sport, EX, EX-L and Touring versions. From the bottom to the top, there is a graduating scale of features and engines that start with a 190 horsepower four-cylinder engine. As the king of the hill, the Honda Accord EX-L is available with a 271 horsepower 3.5-liter V6 engine with Honda's Variable Cylinder Management (VCM) system. Both engines are mated to a five-speed automatic transmission. As with all Honda vehicles, features are grouped according to trim levels. While an Accord LX may be equipped with cloth or vinyl seating, the EX-L will feature leather seating, a high-end audio system and a sunroof, for example.
View Used Honda Accord Inventory >>
Return To The Top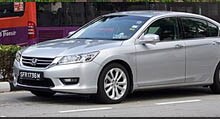 From 2013 through 2017, Honda offered the Accord as a Coupe and Sedan. For 2014, Honda made the Accord available for a variety of tastes, including those buyers who wanted an economical sedan, a sporty V6 Coupe, or a Hybrid capable of achieving 50 mpg. A popular Accord combination was the 2.4-liter naturally-aspirated four-cylinder engine that provides 185 horsepower, mated to either a six-speed manual transmission or a well-received Continuously Variable Transmission (CVT). The other combo is the 3.5-liter V6 that makes 278 horsepower, which is available with a six-speed manual (Coupe) or a six-speed automatic (Sedan). One of our favorite features in the Accord EX and Touring models is the Honda LANEWATCH system. Through the use of a tiny camera located under the right-side rearview mirror, drivers are able, via a tiny screen in the rearview mirror, to see if there are any vehicles in your blind spot.
View Used Honda Accord Inventory >>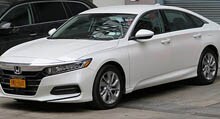 Loaded with the latest technology and driver safety features, the tenth-generation Honda Accord continues to get better and better. Modern styling, class leading fuel economy and a massively large rear seat all contribute to features that continue to make the Honda Accord one of the most desirable cars on the road today. Offered only in a sleek four-door coupe-style body, the Accord V10.0 is offered with a choice of 192 horsepower 1.5-liter turbocharged four-cylinder engine or a more powerful (252 horsepower) 2.0-liter turbocharged four-cylinder engine. The higher-zoot Accord Touring model is available with adaptive dampers that vary the shock absorber settings on the fly. There's also a new 10-speed automatic transmission, which is joined by a six-speed manual gearbox that is part of the Honda Accord Sport model. Also new with this model of Honda Accord is the Honda Sensing safety suite that offers more standard safety features than ever before in this class of automobile. It includes Adaptive Cruise Control, automatic high-beams, lane departure warning, collision-mitigation braking, and traffic sign recognition.
View Used Honda Accord Inventory >>