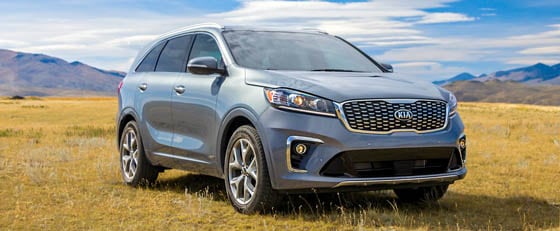 With many options available across the years and trims, the Kia Sorento, may be of interest to many in the market for an SUV.  Some of those features and options available throughout the years with Kia are listed below.  The actual options, features and engine will depend on the vehicle you choose.

Meet the ultimate three-row seven passenger family SUV. Since it's introduction, the Kia Sorento has been a reliable sport utility vehicle. The award winning Kia Sorento incorporates versatility, style, and utility, to give you the best driving experience. Powered by a 2.4L 4-Cylinder Engine and a 3.3L V6 Engine,  the Kia Sorento does more than drive attention. You'll also benefit from the Kia Sorento's maximum towing capacity of 5,000 lbs.

Inside, the Kia Sorento greets drivers with a comfortable spacious interior furnished with three-row seven passenger seating. The 7-inch touchscreen display is perfect for drivers who like to stay connected on the go. This ultra-responsive touch screen includes Apple Car Play, Android Auto, Hands-Free Bluetooth Technology, and a Rearview Camera Display. However, you can always upgrade to a 10-inch touch-screen display with a Harmon Karon 10-speaker audio system.

Plus at times, we  also offer preowned Kia Sorento with power heated leather seats, all-wheel-drive, panoramic sunroofs, and more. Schedule an appointment and experience all the amazing features a used Kia vehicle can offer. Fill out the free online form on this page and contact us today. We look forward to helping everyone in Chicago, find the best used Kia SUV for them.

If you act now, you will also receive an exclusive  preowned Kia Sorento price quote. But you must hurry. The time is ticking. And, we don't want you to miss your chance to take home the best SUV for you. So, what are you waiting for?
Make an appointment >>

Used Kia Sorento For Sale In Chicago Benefits

Reliable high-quality performance

Award winning safety features
Excellent fuel economy



Make an Inquiry (Used Kia Sorento)
* Indicates a required field
Is The Kia Sorento Reliable?

Yes, the Kia Sorento full-size SUV is reliable. Over the years, this vehicle has earned multiple 5-Star Crash Test Ratings from the National Traffic Highway Safety Association. The Kia Sorento is also recognized as a " Top Safety Pick" by the Insurance Institute of Highway Safety. In like manner, the Kia Sorento has also earned an excellent predicted reliability rating of 85/100 from J.D. Power. In the same fashion, the Kia Sorento also comes standard with a transferable warranty. Even more impressive, the Kia Sorento comes standard with a comfortable, spacious interior and ample cargo room. But most of all, preowned Kia Sorento's each share a dynamic powertrain. As a result, drivers can drive with more confidence when they purchase preowned Kia Sorento for sale in Chicago.

Can you see yourself a driving reliable sport utility vehicle? If so, it's time to start checking out our used Kia Sorento inventory. Contact us today and let us show you how the Sorento Kia SUV can help you make your life easier.

Make an appointment >>
How Much Does A Kia Sorento Cost?

The estimated price of the preowned Kia Sorento varies according to your standards. While some drivers are interested in performance, you might be interested in luxury. Nevertheless, we offer huge Kia deals on all of your favorite Sorento models, including the L, LX, S V6, EX, and SX. At any given time, we also offer the used Kia Sorento in 2011, 2016, 2020, and anything in between. Our used Kia Sorento inventory is constantly changing to meet your needs. Whether you're looking for a base model SUV, or you're looking for a fully loaded SUV, we've got you covered.

If you would like to see what we have in store for you, browse our preowned Kia Sorento inventory online. Better yet, fill out the free online form and let us help you filter through our used car lot. As Chicago's premier used Kia dealer, we're confident we can help you find the best SUV for you.

Make an appointment >>

How Well Do Kia Sorento's Hold Their Value?
If you're looking for the best way to get the most out of your next  vehicle, purchase a preowned Kia Sorento for sale in Chicago. Built with high-quality features, the preowned Kia SUVs depreciate at a slower rate than new vehicles. As a result, you can enjoy more value for your money. At the same time you can expect to receive more money whenever you sell or trade in your used vehicle. In other words, you can save more money today and tomorrow. Sounds awesome right! There's nothing quite like driving a preowned Kia Sorento for sale in Chicago. But don't just take our word for it. Come see for yourself.

Make an appointment >>

How Much Does It Cost To Maintain A Used Kia Sorento SUV?

One of the best things about our used Kia Sorento vehicles is that they are easy to maintain. In our experience, most shoppers benefit from our ability to offer preowned vehicles in excellent condition. Furthermore, each of our used Kia Sorento vehicles undergoes a thorough inspection. Plus, we offer a free CarFax report with each of our vehicles. As a further convenience, there are also certified Kia vehicles you may choose from.. Not to mention, we also offer affordable Kia maintenance services to used Sorento drivers. Therefore, we make it easier for you to keep your vehicle up and running.

If you would like to learn more about our preowned Kia maintenance services, fill out the free online form on this page. We would be more than happy to assist you with any questions or concerns that you have about maintaining your used Kia Sorento.

Make an appointment >>

Where's The Best Place To Buy A Used Kia Sorento ? 

Now that you have read about the used Kia Sorento, it's time to come experience it first hand. Contact Used Cars Chicago for a local Used Kia Sorento for sale in Chicago, and let us help you find the best preowned Sorento for you. Give us chance to show you why so many people in Chicago are shifting their attention towards this preowned SUV. Let us walk you through our used Kia Sorento  inventory. Explore all of the features and technology these vehicles have to offer. Fill out the free online form on this page and schedule a free test drive.


Make an appointment.