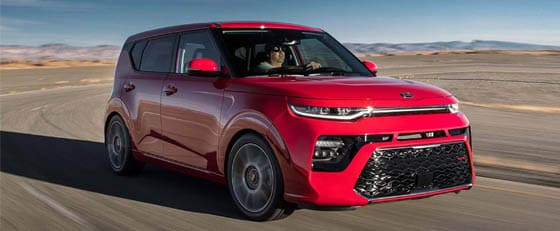 Used Kia Soul For Sale in Chicago: Huge Used Kia Inventory in Chicago from multiple dealerships.

If you're in the market for a subcompact crossover SUV, you should consider buying a used Kia Soul for sale in Chicago. The Kia Soul has built a strong reputation for reliability, unconventionality, and functionality. Depending on the model, year and features you are looking at, A lively 2.0L 4-Cylinder Engine could come standard, while the optional GT-Line Turbo Kia Soul offers a 1.6L 4-Cylinder Engine. Many different years, you can also choose between a used Kia Soul with a 7-inch touchscreen and a 10.25-inch touchscreen with a built-in navigation system and a rearview camera. Plus, in newer Kia vehicles the Kia's UVO link services make it easier for you to stay connected on the go. As a further convenience, preowned Kia Soul drivers enjoy more cargo room with 60/40 split-folding second-row seats and built-in storage areas. Add in the vast array of Kia safety features, and this subcompact SUV does it all.

If you would like to experience the room and comfort available in a used Kia Soul, fill out the free online form on this page. One of or preowned Kia SUV experts will be more than happy to walk you through our used Soul inventory. We can also help you find an affordable price on a used subcompact crossover SUV. Depending on our inventory, you may even find a used Kia Soul for under $10k in Chicago and beyond, there's something here for everyone. So, what are you waiting for?

Fill out the free online form on this page.
Why Buy Used Kia Soul For Sale In Chicago
Reliable high-quality performance

Award winning safety features
Excellent fuel economy



Make an Inquiry (Used Kia Soul)
* Indicates a required field
Are Kia Soul SUVs Reliable ?

Yes, Kia Souls are reliable used SUVs. According to J.D Power, the Kia Soul has a great predicted reliability rating of 86/100. At the same time, the Kia Soul has earned multiple " Top Safety Pick" ratings from the IIHS. Furthermore, the Kia Soul has also earned multiple 5-Star Crash Test Safety ratings from the National Traffic Highway Safety Association. Even more impressive, the Kia Soul has also earned Kelley Blue Book's "5-Year Cost to Own " award. But most of all, the Kia Soul offers plenty of room for you and your family. Plus, this subcompact crossover offers an impressive fuel economy. And what's more. The Kia Soul is expected to last for more than 100,000 miles. Whenever you are shopping a used vehicle, you always want to ensure you ask our specialists about the fuel economy, safety or awards of the specific model you are looking at.  Kia does have a great history of safety and reliability.

All in all, preowned Kia Soul SUVs are reliable for everyone. Whether you're driving across Chicago, or you're driving across county, preowned Kia Souls are fantastic vehicles. But don't just take our word for it. Come see for yourself. Schedule a free test drive.

Make an appointment >>

How Much Does A Kia Soul Cost ? 
At Used Cars Chicago, we often have preowned Kia Souls under $10,000 and above. If you're looking for a used Kia Soul with a sunroof, we generally have them in inventory. In like manner, we also offer great deals used SUV deals on all of the latest preowned Kia Soul models, including the LX, S, GT-Line, X-Line, EX, and GT-Line Turbo for sale. As a matter of fact, you may also see used Kia Soul inventory with subcompact crossover SUVs that have power heated leather seats, a power heated leather-wrapped steering wheel, a Harman Karon Audio System, and a 10.25 audio inch color touchscreen display with premium navigation. As if that's not enough, we can also help you find an affordable used Kia Soul with Lane Keeping Assist, Driver Attention Warning, Blind Spot Collision Warning, Rear Cross-Traffic Collision Assist, Lange Change Assist, Smart Cruise Control, and Ford Collision Avoidance-Assist. With the features and options mentioned above, if we don't have the used Kia Soul with what you are looking for, fill out the form on this page and one of our specialists may be able to locate something that fits your needs!

And that's just the beginning! There's a lot more where all of this comes from. Come explore our used Kia Soul lot, and let us help you find the best price on a preowned subcompact SUV for you. Better yet, contact us today for an exclusive used Kia Soul price quote.

Make an appointment >
How Well Do Used Kia Soul SUVs Hold Their Value?

When it comes down to depreciation, used Kia Souls are fantastic vehicles. Not only do they help you save more money, they also hold their value longer than new vehicles. According to current depreciation rates, the average new car loses 20% of it's value with the first 12 months. In essence, once you drive a new car off of the lot, it no longer holds the same value.

Meanwhile, preowned SUVs such as the Kia Soul, successfully maintain their value with minimum depreciation. In the same fashion, preowned Kia Soul SUVs enable used car buyers to recover a higher percentage of their investment whenever it comes time to sell or trade-in their used car. At the same time, preowned Soul Kia SUVs come standard with a transferable warranty. As a result, used car buyers can save more money today and tomorrow.

For more information about the real value of a used Kia Soul for sale, fill out the free online form above.

Make an appointment.
How Much Does It Cost To Maintain A Used Kia Soul SUV?

For drivers wondering about the maintenance cost associated with buying a used Kia Soul for sale in Chicago, here are a few things you should consider. For starters, the Kia Soul comes standard with a transferable warranty. Therefore if you purchase a used Kia Soul with low-mileage, you can protect your investment and your wallet. Furthermore, Kia Soul vehicles are easy to upkeep, and they require low maintenance. You should also be glad to know that preowned Kia Soul parts and maintenance are easy to find at our used Kia dealer. Therefore we provide affordable used Kia maintenance and repairs for everyone. We can also assist with your schedule Kia Soul maintenance needs. Believe it or not, we understand how important is it for you to buy a reliable SUV.

Used Kia Soul for sale Chicago area
With so many different options and features on the Kia Soul over the years, check our inventory and see if you can find the vehicle that meets your desires.  If you are looking for a specific color, feature, engine or something else and you can't find it in our inventory, fill out the form on this page and our specialists may be able to locate one for you.  They specialize in buying specific vehicles to meet the needs of our customers. Used Cars Chicago