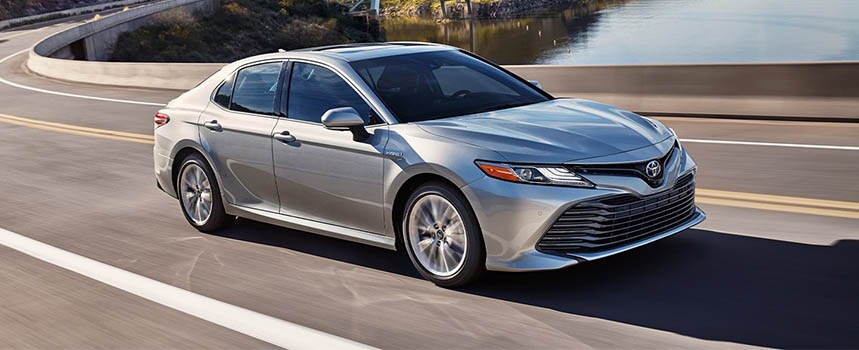 Fill out the short form below and get an additional discount on a used Camry for sale in Chicago

Buy A Used Toyota Camry Locally Near You In Chicago & Enjoy An Extra Peace Of Mind You Get With Toyota

Used Toyota Camry vehicles provide confidence and peace of mind to consumers everywhere. Chicago residents, seem to really appreciate the quality you get with Toyota.  That is why we do our best to have them in stock when you search used Toyota Camry near me.  The Camry sedan stands out from the crowd with multiple 5-Star Crash Test Ratings from the National Traffic Highway Safety Association. This vehicle is also celebrated for its reliability, durability, and fuel economy. Add in the comfortable, spacious interior and this car has it all.
But make no mistake. Each used Toyota Camry has its own unique advantages. Starting with the 2007 Toyota Camry to the 2017, 2018, 2019, all the way up the 2020 Toyota Camry, this car has something special for everyone. To show you what we mean, we have put together the finest selection of pre-owned Toyota Camry midsize sedans for sale.
Come explore our used Toyota inventory, and let us help you find the best car for you. Give yourself a chance to save big with our special used Toyota prices. Fill out the free online form on this page and schedule a free test drive.
Make an appointment >>
Make an Inquiry (Used Toyota Camry)
* Indicates a required field
How Long Does A Toyota Camry Last
Talk about going the distance. The Toyota Camry is one of the few cars proven to have gotten past 200,000 miles and beyond when maintained properly. On top of the mileage, pre-owned Toyota Camry vehicles can last for years to come. Not to mention, this vehicle can go even further with the right maintenance care. As if that's not enough, a used Toyota Camry's fuel economy is built to help you take your adventure even further.  To show you what we mean, one version of the Toyota Camry has EPA estimated fuel economy of 22 mpg in the city, 32 mpg on the highway, and 26 mpg combined. Add n the 301 horsepower V6 Engine paired with a 8-speed automatic transmission, and there's not much that can stop the Toyota Camry. But don't just take our word for it. Schedule a free test drive at our used Toyota dealership today. Let us help you find the right Camry for you.  Bigger engine? Better fuel economy?  Let our specialists know and we will find a vehicle that fits your needs.

Which Used Toyota Camry Near Me Is The Best?
It's no secret! Toyota Camry's are at the top of every used car shoppers list. And for a good reason. Since 1986, Camry Toyota sedans have been delivering high-quality performance. Therefore, it all comes down to preference. For instance, 2019 Toyota Camry sedans are perfect for drivers looking to upgrade their standards without compromising the things that they love most. However if you're looking for an affordable vehicle with an outstanding fuel economy, check out the 2011 Toyota Camry. The 2011 Toyota Camry offered a class leading fuel economy. Nevertheless if you're looking  to buy a used Toyota Camry under $10k, something around a 2009 Camry, may be an excellent choice for you. But that's just part of the story. To find out more about our used Toyota Camry inventory, fill out the free online form above. Used Toyota Camry in Chicago is a common search on our site for a reason.  Hurry and secure yours.

How Much Does It Cost To Own A Preowned Toyota Camry?
There are a few things you should consider if you want to know how much it costs to buy a Toyota Camry. For starters, the Toyota Camry comes standard with low maintenance fees. You'll also be glad to know that with the right maintenance, a Toyota Camry can last for up to 10 years or more. Many Drivers have come to expect getting up to 200,000-miles out of their Toyota Camry. That's more than enough power to get you where you need to go. If that's not enough, Toyota Camry sedans come equipped with an outstanding fuel economy.
Can you see yourself reducing your monthly expenses? If so, buy a used Toyota Camry. You'll be happy forever. But don't just take our word for it. See for yourself.
Used Toyota Camry Near Me Test Drive Research
If you're still researching used Toyota Camry near me, or Toyota Camry sedans for sale, you're probably wondering where the best place to schedule a free test drive is? If so, it's time to contact Used Cars Chicago. We can help you get behind the wheel of your dream car today. We can also show you how to find the best used Toyota Camry deal for you. Whether you're shopping for a preowned 2019 Toyota Camry, or you're in the market for a 2018 Camry Sedan, we've got you covered. We are continuously updating our used Toyota inventory.  In like manner, our team is ready to help you decide which pre-owned Toyota Camry vehicle is the best for you.

As a further convenience, we also offer used car financing. Find out how to get approved today, and drive your new pre-owned vehicle tomorrow. Fill out the free online form on this page to speak to our Chicago used Toyota team.

Make an appointment